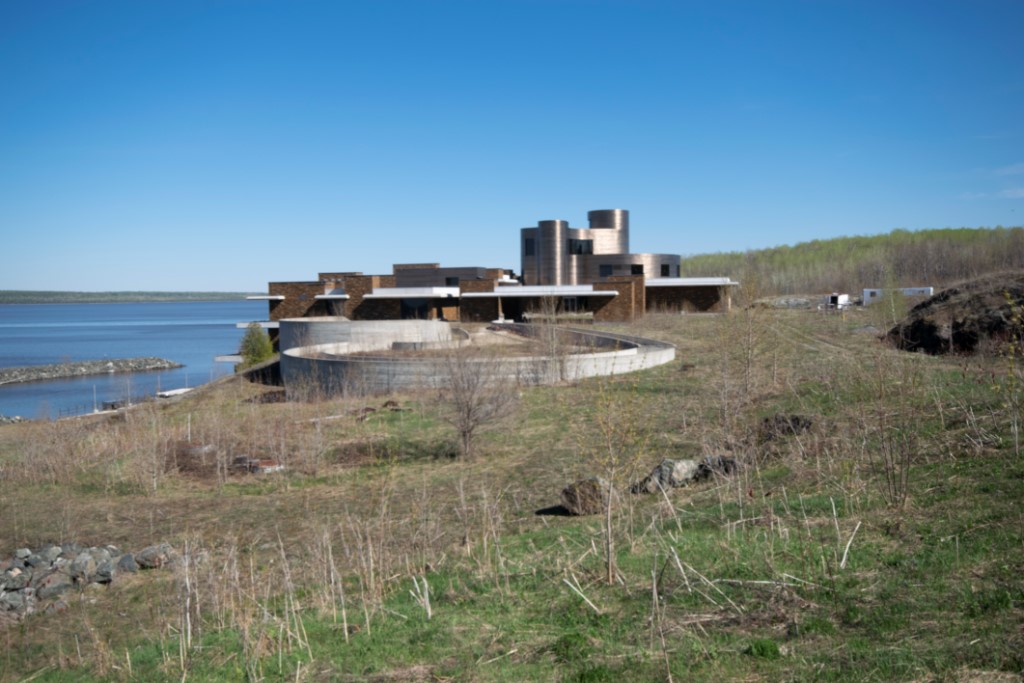 Peter Grant Mansion in Haileybury – Canada's Largest Mansion
At 65,000 square feet, this vacant mansion goes by different names – Haileybury House, Peter Grant Mansion or simply "Canada's Largest Mansion". It was built along the shores of Lake Temiskaming in Northern Ontario by Peter Grant Junior.

Peter Grant grew up in the New Liskeard area. He started as a plant manager for Elk Planning Mill Limited and became president of the company in 1976. The same year he became president of the Grant Lumber Company Limited. which held partial ownership of the Elk mill until 1995.

Mr. Grant started Grant Forest Products in 1980, making him the 87th richest person in Canada by 2004. His company was North America's third largest supplier of oriented strand board. Peter built his own private nine hole golf course named Frog's Breath. He used his money for philanthropy, raising millions for charity through the Frog's Breath Foundation.

In 1998, he held the first of many annual fundraising events, raising $523,000. In 2005, $500,000 raised was split between the Temiskaming Hospital and the Englehart and Area Community Complex. In 2006 the foundation was able to donate $750,000 towards the Kirkland District Health Centre.

Over a period of 9 years these golf tournaments raised over $12 million dollars with the help of hundreds of volunteers, community supporters and the generosity of Grant Forest Products Incorporated who matched the event proceeds.

By 2007 however the tournament was cancelled, citing the financial downturn in the lumber industry.

Construction of the mansion began in 2005, which was to be used as both Peter's home and a corporate office. The house was to feature an art gallery, waterfalls, golf course, and squash court. It has two elevators, a boat house big enough for a 40-foot yacht, an indoor pool, a giant hot tub and 30-foot fireplaces in the master bedroom and living room.

By 2009, the American housing market downturn led to the company filing for court protection from creditors, with a roughly $600,000,000 debt. All of the company's assets, including the mansion, were put up for sale. Construction of the house stopped in 2008.
In 2010 the property was listed for sale at $25,000,000 and sat idle for a few more years until being purchased by a Toronto company. For three years the company failed to pay the taxes on the property and the town of Haileybury put the property up for sale. In the final hours before the sale, the company came forward and paid the taxes owing.
It's estimated that the property would need $1 million just to complete the construction. The mansion sits in disrepair. The floors are still plywood, electrical wiring hasn't been completed, the walls were left unfinished and the property has an industrial look to it rather than a home.
The property has been fenced off and No Trespassing signage posted.


Several other abandoned mansions can be found on my blog – right here…
Tags In