The three -storey Capital Theatre in the City of Brampton was built in 1922 based on a design by Toronto architects Herbert George Duerr and B. Kingston Hall. Financing for the theatre came from Thomas Moorehead, who spent $6,000 for construction(*) of the theatre. Mr. Moorehead would later become a Peel County Court Magistrate (judge).

The theatre first opened for business on February 28, 1923 with an initial capacity of 714 people(*) which was considered quite large considering that the population of Brampton was 5,000 people. The cost of admission was .15 cents for a child, .30 cents for an adult and .5 cents for an after-school matinee. The movies would often consist of news, a cartoon and the main feature.

In 1926, the Dumbells, a troupe of World War One veteran entertainers, played at the Capitol. The Dumbells were formed in 1917 near Vimy Ridge, France.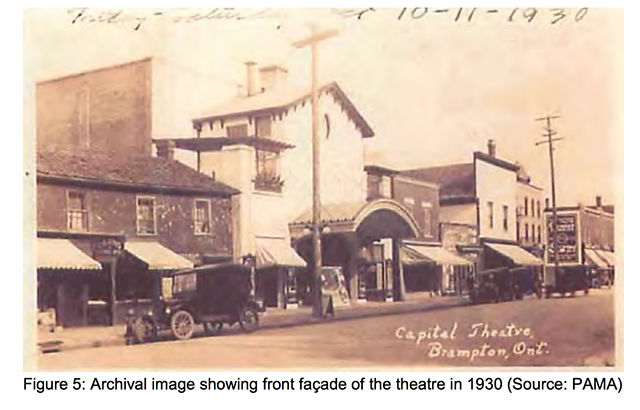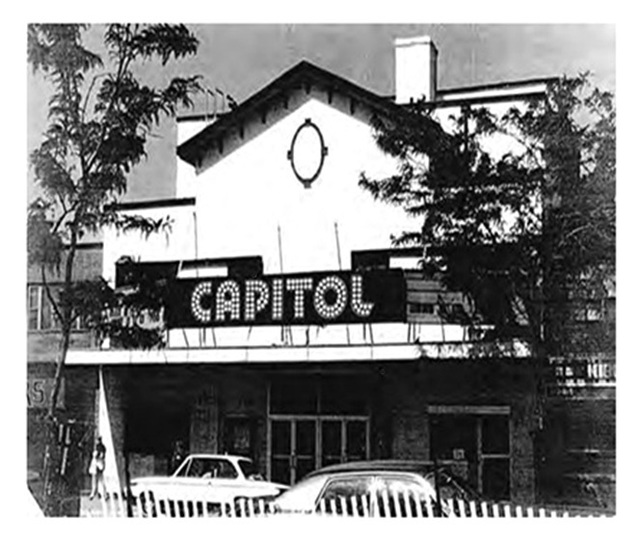 The theatre was originally designed with two outdoor terraces on the second floor. The terraces provided social atmosphere unlike theatres of today. They were accessed from the balcony level. In the 1940's, the terraces were enclosed and converted into washrooms.

The Capital Theatre initially ran Vaudeville shows. The theatre contained an orchestra pit built by the front stage. On Sunday nights, The Capital Orchestra would play inside the theatre under the direction of conductor Jim Algie, who also played cornet.
When the Vaudeville movement began to slow, the theatre began showing silent movies accompanied by live orchestral music. The first movie shown was "Smilin' Through" (1922). In 1928 the orchestra pit was removed to allow for extra seating and upgrades made to the equipment to allow for 'talking films' or 'talkies'.



Rebranding to Odeon

Moorehead later sold his theatre to a man named Les Gregory. Gregory would later die in a plane crash. After Gregory's death, the theatre was sold to the Odeon Corporation. In 1946 after being purchased by the Odeon Corporation, the Capital was renamed to the Odeon. As for Mr. Moorehead, he went on to expand his theatres to the cities of Belleville, Midland, Ottawa, Orillia, Welland, St. Thomas, and London.

In 1948, a flood damaged part of the theatre but repairs were made in time for the 1949 premier of the movie, "All Over the Town". The premier starred Sarah Churchill (daughter of Winston Churchill), who was present for the movie premier.

Attendance at the Odeon gradually declined into the 1970s due to competition from new multiplex theatres. By this time the aging theatre also required numerous repairs.

In 1981 the City of Brampton purchased the property for $185,000. As part of the agreement, the city was not to show any first-run movies for the next 40 years.  Two years later, the city of Brampton paid the consulting firm Woods Gordon $20,000 to evaluate the property so they could make a decision as to what to do with it.



Capital Theatre

The report concluded that it wouldn't be wise to continue "pouring money" in the theatre and that a new theatre should be built. The city reopened the theatre under the name of "Capital Theatre" on November 1, 1983. The Capital ran live theatre plays.

Heritage Theatre for the Performing Arts



Around October of 1988, the City of Brampton and the Province of Ontario financed restoration of the theatre. It was renamed to The Heritage Theatre for the Performing Arts. Some of the notable performers at the Heritage Theatre would include Henry Youngman, Alan Thicke, the Royal Canadian Air Farce, Burton Cummings, Randy Bachman, and Rita MacNeil.




By the 1990's, the building was in need of over $4 million in renovations. There was also no orchestra pit and not enough dressing rooms for the actors. Brampton city council considered renovating the Heritage to bring it up to date. ERA Architects was hired to evaluate future use of the property. Their report recommended that the Heritage Theatre be retained in full or in part and that the building shouldn't be demolished.

When the proposal for a Market Square fell through, Mayor Peter Robertson suggested that the location of the Market Square be used for construction of a new theatre. With $4 million needed in renovations to the old theatre, this would make sense. The city announced that the 2005-06 year would be the "grand finale season".

On August 13, 2003 a groundbreaking ceremony was held for the future site of The Rose, Brampton's new performing arts centre.

Before the theatre closed forever, it saw a brief resurgence as a movie theatre in 2002 when a high school used it for a project. Students worked to run the projector, concession stand, box office and as users.

In 2013, the city sought advice from the public as to potential uses for the former theatre building and the adjacent buildings.  In March of 2016, a citizen-led heritage group attempted to register the building as a heritage property. In April of 2017 the City of Brampton declared the property as surplus. As for the attempts to have the building declared a heritage property, the city repeatedly failed to address the issue.

On May 29, 2019 the council voted to approve demolition of the once grand theatre.




Haunted

According to Bramptonist.com, an aspiring actor was murdered in one of the dressing rooms. His spirit still lingers. Visitors have reported a coldness that runs up and down their backs as well as strange voices and a Grim Reaper like figure by the front curtains. (TWP: Somewhat unoriginal un-sourced claim that could be made to any performance house.)

Write up by Talking Walls Photography
Sources:
Brampton.ca council minutes
Quickbite News
TlongPortfolios
Toronto.Com
Wikipedia

[ * Other sources state 831 seats and $60,000 for construction ]

P.S. A huge thanks to @AngBonaTV for sharing this gem with me.

Tags: